Longpi, a tiny village in Manipur, a state in the North East of India, is known for its black stone pottery.Unique to this village, this art of making crockery and cookware, has gained popularity not only in India, but across premium and niche markets around the world.Longpi Hamlei, the age- old stone pottery art,uses raw materials that is indigenously available in that village only.
(Sample of rocks used for making the black stone crockery)
Weathered rock and serpentine rock(black rock) are crushed to a powder and mixed with water in a ratio of 5:3, to form a clay-like consistency. The dull-brown mixture is then kneaded the entire day. It is then flattened on a wooden board. The craftsmen do not use the potter's wheel. They use their bare hands to mold the mixture. Once the molded clay has dried,and is hard enough, it is taken to an open bonfire(kiln) and heated for 5 to 7 hours. While still hot from the fire,the pottery is taken out and then scrubbed with a local leaf known as "Chiron ni".This gives it a glow and shine which makes the end products- the grey-black,pots and pans, cups etc attractive.It has an earthy yet modern touch that certainly adds a dash of glamour to the table.
The Tangkhul Naga tribe of the Ukhrul district of Manipur,have been assiduously practicing this art form of pottery for years.They use these pots and pans for their own daily purpose.It is believed that hot food remains hot and cold food retains its cool temperature in these earthenware. What is important is, that its all hand work with no harsh chemicals.As such, it can safely be used for cooking, serving and drinking from the pots, pans and cups.A must for eco- friendly enthusiasts! This pottery was also referred to as Royal Pottery at one time, since only the rich and noble families of Manipur could afford them.
It is a beautiful form of pottery that needs to be encouraged,an aesthetic  form of art that needs to be promoted.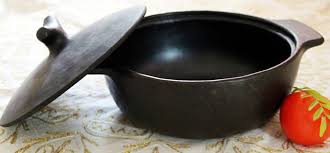 (Image Courtsey: The Craft Safari)
(Images 1 & 2 courtesy: The Hubby)