I was born and brought up in the evergreen Tea Estates of Assam, in the North East of India, amidst a clean, hygienic and pollution free environment. Where life was easy, carefree and easy going. Where the best of food, fresh from the kitchen garden , milk and eggs from the small farm back door started your day, giving you the much needed energy to play in the lawn up front, amidst the colorful flowers and trees and shrubs of various sizes lining up the portico. Those days the vegetables were not sprayed with any chemicals or pesticides and therefore the taste of the dishes that were cooked up were fresh and delectable. The milk and eggs were as fresh as could be.And though as a little girl I ran around the whole house and garden to avoid drinking milk, I must admit that I do miss that glass of white gold.
So, when I chanced upon an organic market in Guwahati,Assam(India) I was delighted. Set up by the government of Assam- an initiative of the Department of Agriculture and the Assam State Agricultural Marketing Board, the market complex has facilities like a vegetable grading and auction yard,store house with modern amenities,a banana ripening unit, and a lot more. Not to mention the shopping area where you get fresh vegetables, eggs and poultry products at reasonable price, much less than the market price.The unique display of products here as well as in the super market upstairs is definitely attractive.This market was set up with the prime objective of helping farmers of Assam and the North East, to sell their products on a common platform. So, one can get apples and lettuce from Arunachal Pradesh to the locally grown "Saak" (green leafy vegetables)and much more.
Located in Six Mile-Panjabari area of Guwahati city,in Assam, the concept of the traditional with a modern touch is captivating.It is also a place to hang out with friends and family for a light meal or freshly cooked "pithas", an Assamese snack, made usually during the festival times.There are restaurants on the first floor, but hubby and I decided to stick to our cuppa "chai"(tea) with freshly baked "pithas" and other savoury items.What is interesting is that the ladies were brought from villages to display there culinary skills and earn from the sale. Cheers to women empowerment!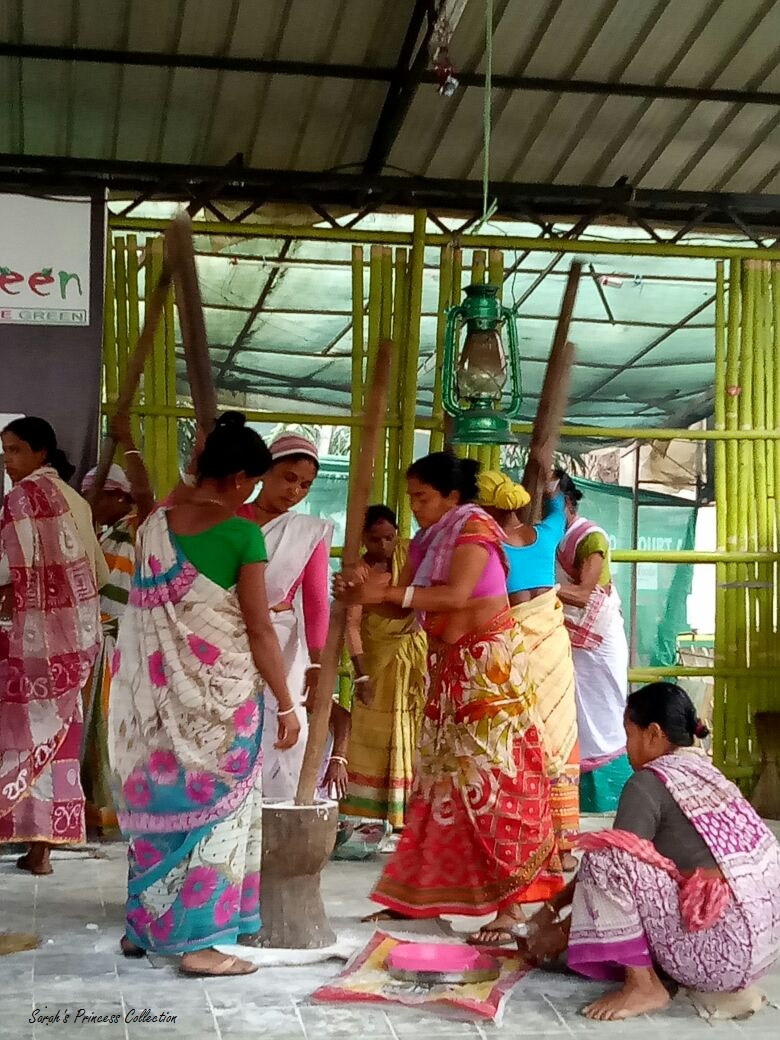 From grinding and pounding rice, to making the snacks, it is all done here.
There is also a corner for buying cereals and groceries that are used in the Assamese cuisine. Fresh farm products are also available here.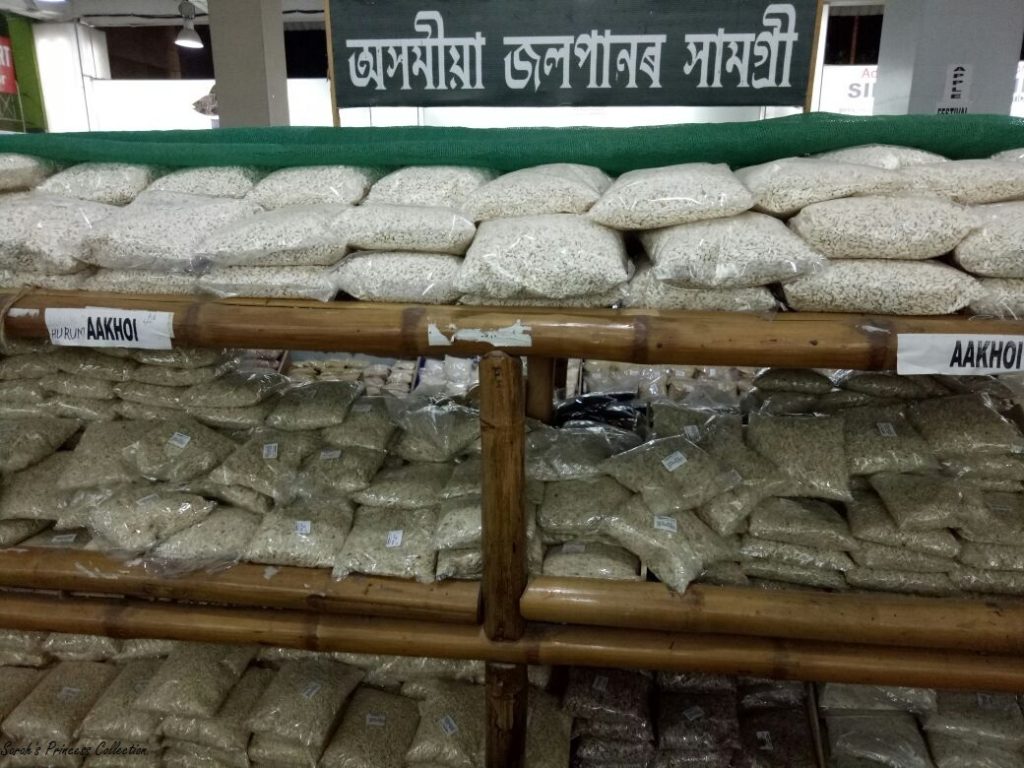 There is also a display of traditional crafts and handlooms which, tourists can buy as mementos of this beautiful state of Assam.
All said and done, 'Bipanan Khetra" in Guwahati is good for those who love organic vegetables and fresh food.After all, "health is wealth" and what better way to live healthily than to eat fresh chemical free products.