Cushions For Comfort, Aesthetics and Finesse.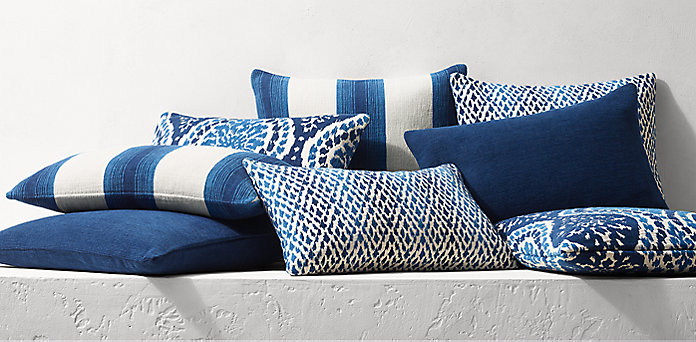 (Image Source:www.restorationhardware.com)
Cushions are a popular accessory that accentuates and brightens any area of the home. I always love buying cushion covers of various shapes and colours for the sofa or even the bed. I guess I inherited this habit from my Mom, who always had this loveable accessory in our bedrooms,guest rooms, living room and in the verandah.  Cushions  serve two purpose. One is the aesthetic feel and the other is functionality. They not only brighten the room but  also provide comfort and support.
(Image Source: www.eyesofindia.com)
I usually  mix and match cushions of various patterns  that complement the colour theme of the room.For the sitting area outside, I love bright and bold colours(maybe florals)to create an area of creativity and flair. Of course, fabrics should be chosen wisely, keeping in mind the comfort factor.Cushions  in any space, introduce color, texture and form; vital design elements when you're finessing a room. But one must take into account,the size, filling, color, shape, the entire room style, and the number of pillows;too many would make sitting uncomfortable.Different shapes do create a visual treat if complemented well. But I do not experiment with shapes. I usually prefer the square ones in various sizes.
But, at the end of the day,I think cushions are a wonderful accessory that does bring vibrancy to any furniture, in any corner of the room.
Sharing some of my favourites:
[Image Source in slider : Pinterest. To see the original source, please click on the images in pinterest].