"Happiness can be found in the darkest times, if one only remembers to turn on the light".
The interiors of a house reflect the persona and nature of the people living in the house. Their choices, taste and the general perception towards life as a whole is largely reflected in the way they do up their interiors. Among others, lighting is one of the most important elements of a home's design. It serves many functions, such as providing safety, assisting in performing household tasks, creating an atmosphere for entertaining, and pulling together the overall design a homeowner is trying to achieve. A well-lit house has better energy than a house which is dimly lit.
However, one must have the lighting done in a way that not only just lights up a room but is also useful. When it comes to one's home interior lighting, there are a lot of points to be considered before going out and purchasing the lighting fixtures. Modern lighting has a number of options for the buyer which can be delightful on one hand and intimidating on the other, especially if one is new to the process. Purchasing quality designer lighting for a home can make a difference between a beautiful display and an illumination nightmare.
Balancing your lighting elements:
There are three types of interior lighting:
1.Ambient Lighting – It is the building block for properly lighting each room in the house. Also, known as the General Lighting, this style provides the subtle overall illumination to see inside a house. Hanging light fixtures are commonly used here, as the purpose of ambient lighting is to illumine as much of the room as possible.
2.Accent Lighting – It is to focus and assent a feature in a room, like a piece of artwork. It is added to create a spotlight effect on a feature where ambient light may not reach.
3.Task Lighting – It is used to brighten the area of work, like in a kitchen over the counter or in a study room over the desk. The purpose of this form of lighting is to help the residents of the house to work conveniently under a good light.
Wall Lamps:
There are many different types of wall lamps that serve a large variety of functions. They can provide task light in a bathroom, ambient light in a dining room, or general light in a hallway. No matter what type of installation it is, wall lamps add warmth and elegance to any space. In small homes, these are perfect for freeing up space on side tables obliterating the need for table lamps. You can use them to lighten up dark corners in dingy rooms. In bigger homes, they can cosy up to a space or highlight a particular feature – like a group of vases.They're a grown up finishing touch that gives your room serious game! A plethora of choices for lighting up your homes, from the neighbourhood light shop to online shopping, innovation is the key word here.Trendy wall lamps online are the latest fad as you get a number of choices to suit your home decor. Depending on the mode of installation there are two types of wall lamps: ones that your electrician has to 'hard wire' into the wall, or ones that you can "plugin", and then fix to the wall with a fitting.
Plug In Lighting
 Hard Wire Lighting
Types of Wall Lamps:
The wall lamps can give your room that perfect finishing touch. They can also be used as the primary source of light in your home. Depending on the purpose of utility, wall lamps are available in different types.Various factors influence the choice of wall lights. These factors include the size of the room, the kind of the chamber, and the type of wall lights that are available. Not only as a source of utility, but these lights should also add some aesthetic feel to the room. The size of the wall lights will also determine how they will be installed in a particular room. One type of the wall lights that may be used is the flush lights. The flush wall lights will make a big difference to the room appearance.
The light may be either dispersed or diffused thereby creating a comforting and soft tone of illumination. This type of wall lights is usually best suited for the bedrooms, living rooms, or the dining rooms.
Spot wall lamps
The spot wall lighting is ideal for open areas like the spacious kitchen. It is best used in highlighting certain features in a given room. It is usually an apparent source of light. When mounted on a wall, it is easier to redirect them to the specific target. Therefore, they are easily used to quickly alter the ambience of the room.
Mirror wall lamps
The mirror wall lamps are cute lights that have fused the modern functionality and style. These lights can be installed in different parts of the home. They are best suited for the bathroom and bedroom areas.
Lighting Trends for 2019
–Soft gold is the trend.
–Retro and Industrial Styles are Coming Back but in More Refined Forms.
-Vintage Edison style bulbs.
-Less clutter and cleaner lines.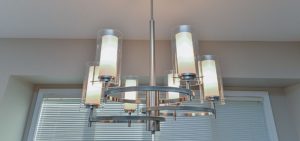 (PC:https://sebringdesignbuild.com)
LED lights are taking over, cheaper.

Bigger fixtures. Some house owners prefer bigger fixtures, irrespective of the size of the room, just for the "wow" feel!
In the end, the type of wall lamps to install is purely a matter of one's personal choice. The best lighting design is one that you will love and which will work best in your home.